Posted by admin in
Apple
,
Technoogy
on 11 28th, 2007 |
no responses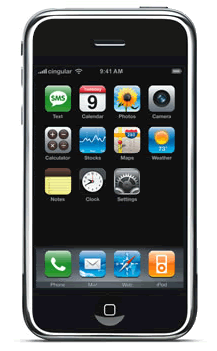 I came across some amazing facts behind origin of IPhone.
[Source from wikinvest http://www.wikinvest.com/concept/IPhone]
Companies that benefit from the iPhone's success

Apple, Inc, as the producer of the iPhone, stands to gain from its success. The components used in the iPhone cost Apple around $200 for the $499 iPhone, and $220 for the $599 version (excluding the cost of assembly), suggesting margins in the 50% range.
AT&T has an exclusive contract with Apple, and the iPhone will only be available on AT&T's cellular network. If the iPhone proves to be a success, it would be a competitive advantage for AT&T and could draw customers away from other cell phone providers
Synchronoss Technologies (SNCR) runs AT&T's internet customer service system, including phone activations. Synchronoss makes about $8 for every iPhone that is activated. A successful iPhone launch would boost their revenues.
Google has partnered with Apple to provide its maps / directions service over the iPhone. Google has previously said mobile applications are an important part of the company's future growth; the success of the iPhone could further Google's leadership in this area.
Component suppliers that benefit from the iPhone's success
Apple uses a number of contract manufacturers and suppliers to make its products. Most are Taiwan-based. While shares of some of these companies are listed on U.S. exchanges as ADRs, others can only be purchased through the Taiwan or Hong Kong stock exchanges.
Balda AG (FRA:BAD) is a German company that makes what technology experts believe is the most expensive single component — the touch screen. At $60, the screen represents 30% of the cost of the iPhone components.
Samsung Electronics Co. makes the main microprocessor that runs the phone's operating system and various applications.
Infineon Technologies AG (IFX) makes the chips that power the iPhone's wireless data capabilities.
ARM Holdings (ARMHY) licenses the technology used in the iPhone's CPU.
Hon Hai Precision Industry Co., the world's largest electronics contract manufacturer, received the initial order to assemble 12 Million iPhones
Quanta Computer (TPE:2382), a laptop manufacturer, received an order for an additional 5 million iPhones, apparently destined for sale outside of the United States.
Catcher Technology Co. (TPE: 2474) makes the casing for the iPhone
Primax Electronics (TPE:2336) which makes digital camera modules for cell-phones and is a supplier for the iPhone
Entery Industrial Corp. (TPO:1333) is a flash memory manufacturer and a supplier for the iPhone
Unimicron Technology Corp. (TPE:3037) is a printed circuit-board manufacturer specializing radio frequency (RF) modules. It is a supplier for the iPhone
Texas Instruments (TXN) makes a power management chip.
Marvell Technology Group (MRVL) supplies the chips that allow the iPhone to connect over Wi-Fi networks
This is truly a good example of how product gets build by the contribution of the various components, people and minds.