Posted by admin in
Adobe AIR
,
Flash Platform
on 12 13th, 2007 |
no responses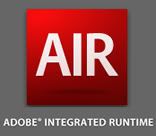 Adobe AIR lets developers use their existing web development skills in HTML, AJAX, Flash and Flex to build and deploy rich Internet applications to the desktop.
Beta 3 includes the following new features:
Applications built on Adobe AIR Beta 3 can register to run at start-up/log-in.
Web Launcher provides the ability to detect and launch an installed AIR application from a web browser.
Support for H.264 video and Advanced Audio Coding (AAC).
Full Screen Hardware acceleration.
Flash within HTML Support allows Flash content to be integrated within HTML based applications.
Adobe AIR also supports automatic runtime updates, similar to how Adobe Flash Player can be updated.
Thawte (http://www.thawte.com/) offers an Adobe AIR developer certificate, so developers can certify applications built on Adobe AIR are from a trusted source.
Support for the Mac OSX Leopard operating system.
Download: Adobe Labs
Related Links: Adobe AIR Beta 3 Released on Labs