Posted by admin in
Articals
,
Flash Platform
,
Technoogy
on 04 1st, 2008 |
2 responses
As mentioned in my previous post I am now Adobe Certified Professional.
If you are planning to appear for Flex Certification Exam following information will help you.
This is just a reference material but you experience will count.
Exam questions are come from four areas mentioned in Developer Exam guide.
Flex Application User Interface (UI) Creation


IF you have played with most of UIcomponent of Flex you can easily answer the questions. But questions will not be straight forward it will be well twisted so it requires good attention while reading question.

Flex System Architecture and Design


You should have really good knowledge of flex component architecture and must know how to created loosely coupled component. You should also know basic UML diagram techniques like Inheritance, Implementing interface etc.

Flex Application Programming Fundamentals


You need to have knowledge of OOPS programming and Core AS3 programming like String, Array etc.

Integrating with Remote Data and Flex Applications


If you have worked extensively with flex but haven't played much with data integration with flex then this will be very difficult area for you. You have for prepare and practice well to understand RPC services features for flex and have good understanding of LCDS
Reading is fine for certification but after all "Experience Matters"
Posted by admin in
Articals
,
Flash Platform
,
Flex
,
Flex 3
on 02 6th, 2008 |
one response
This article is all about presenting the visual component hierarchy this is basic thing in flex which shows how different properties, method and evens added to the component at various levels and this give knowledge to the lower level of abstraction.
Flex Visual component are created with the class hierarchy of several ActionScript class to provide more flexibility and add more features at the different level of hierarchy.
Following is a visual representation of class hierarchy of Flex Visual Components: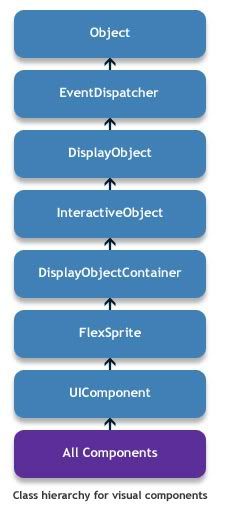 Object: Object is a Top/Root Level class of AactionScript class hierarchy. | More Info…
EventDispatcher: EventDispatcher class extends object class. EvenDispacher class allows any object on the display list to be an event target. | More Info
DisplayObject: Display Object class extends object and this is the base class for all objects which can be added in the DisplayList. Display object class allows some properties (x, y, width, height )for components/Objects like MovieClip, Button, TextField etc. | More Info
InteractiveObject: InteractiveObject extends DisplayObject and it is an abstract base class for all DisplayObject with which user can interact. InteractiveObject provides some common properties like doubleClickEnabled, focusRect, tabIndex etc… and Events like all mouse Events, Keyboard Events. | More Info
DisplayObjectContainer: DisplayObjectContainer extends InteractiveObject class and it is a base shell for all containers which adds display objects in the container shell. . DisplayObjectContainer provides some common properties like numChildren, tabChildren etc and methods like addChild(), removeChilld() method related to the child display object management. .. | More Info
FlexSprite: FlexSprite is a subclass of the Player's Sprite class and the superclass of UIComponent. It overrides the toString() method to return a string indicating the location of the object within the hierarchy of DisplayObjects in the application. The Sprite class is a basic display list building block: a display list node that can display graphics and can also contain children. | More Info

UIComponent: UIComponent extends Sprite and it is a base class for all Interactive and non Interactive component. The UIComponent class is not used as an MXML tag, but is used as a base class for other classes. | More Info
All Visual Components like VBox, HBox, Canvas, Button etc. extends UIComponent.
Hope this article will help you. Any Comments?
Posted by admin in
Articals
,
Flash Platform
,
Flex
on 09 10th, 2007 |
4 responses
Most of flex developer install the flex builder by selecting "Stand-alone IDE" configuration. While developing application using flex + java they have to depend on other editor or IDE. So here there is a way in which you can do the java development form the flex IDE.
There are two types of installation configuration when you install flex.
Stand-alone IDE :" This includes a customized version of Eclipse, and its own Java Runtime Environment (JRE). This version will not have java development tools preinstalled so you can't do the java development. (For java development you need to install JDT (Java Development Tools) which we will see later in this article.)
Plug-in :" This will install flex builder 2 Plug-in on Eclipse (if you are currently using Eclipse 3.1.2 /3.2 on Macintosh OS X.). With this installation you can do development on java and flex simultaneously form one IDE.
For updating Java Development Features in Flex IDE You need to install Java Development Tools (JDT) plug-in.
You can download & install the JDT plug-in from following location
http://easyeclipse.org/site/plugins/eclipse-jdt.html
Or
You can install JDT from Flex Builder.
Following are steps to install JDT form Flex Builder.
1. Open Flex Builder IDE.
2. Navigate to: Help Menu >> Software Updates >> Click on Find and Install.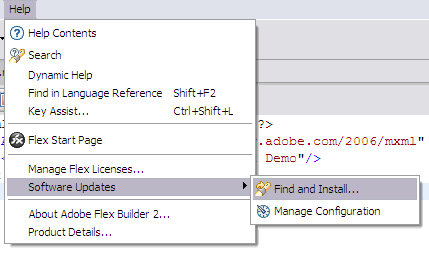 3. Now Install/Update Dialogue box will open. Select "Search for new features to install" and Click on Next button.

4.Now Install Dialogue box will open. Check "Eclipse.org update site" and click on finish button.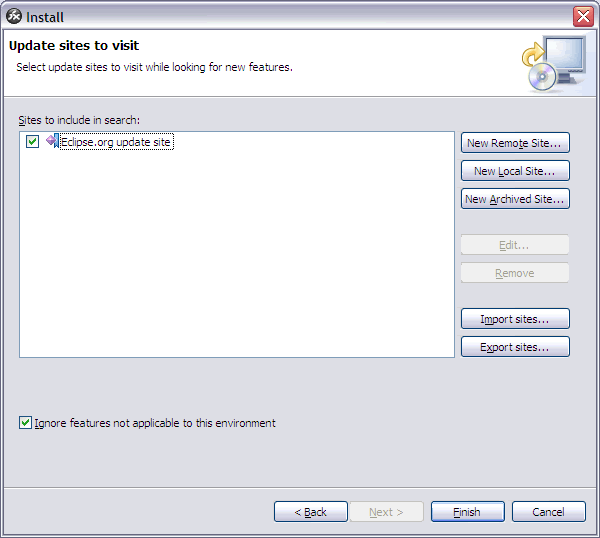 5. Now Update Manager will start searching Site Mirrors to download plug-ins and it will display "Update Site Mirrors" Dialogue box. Select any mirror site and Click on "Ok"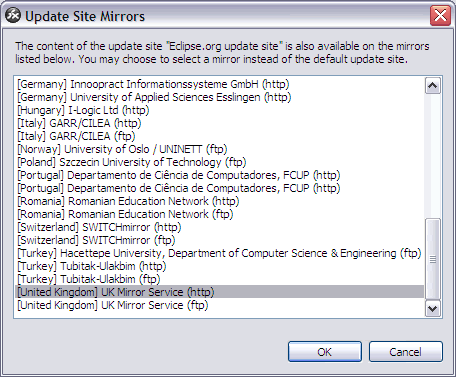 6. Now Update Manager will search for plug-in and open an update dialogue box. This dialogue box will list all plug-in for you current Eclipse version. Select "Eclipse Java Development Tools 3.1.2" and Press Next.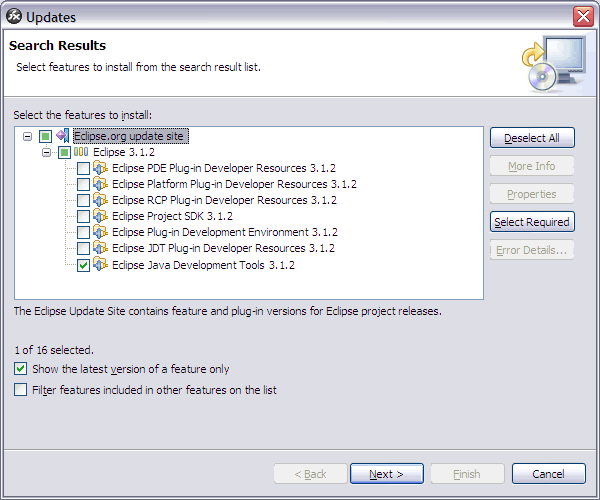 7. Now Accept the License Agreement and Click on next.
8. Select the installation path (By default it will be your Flex builder 2 directory) and Click on Finish.
9. Now JDT will be downloaded and installed. After installation you need to restart flex builder again.
Now you are done with the JDT installation.
To create a java project
1. Navigate to: File Menu >> New>> Click on Other…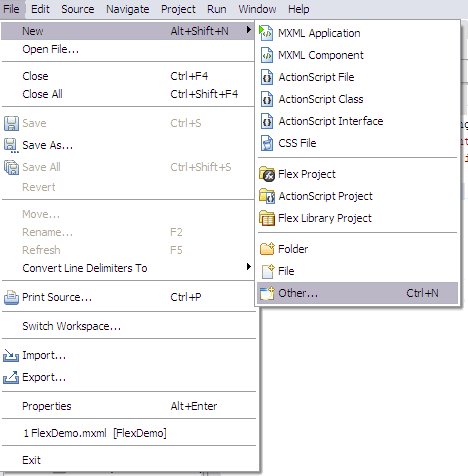 2. Now "New" popup window will open and you will see the you have a option to create a java project.


In this way you can create a java project and do java development.
Hope this article will help some flex developers.
Enjoy Flex + Java Development….